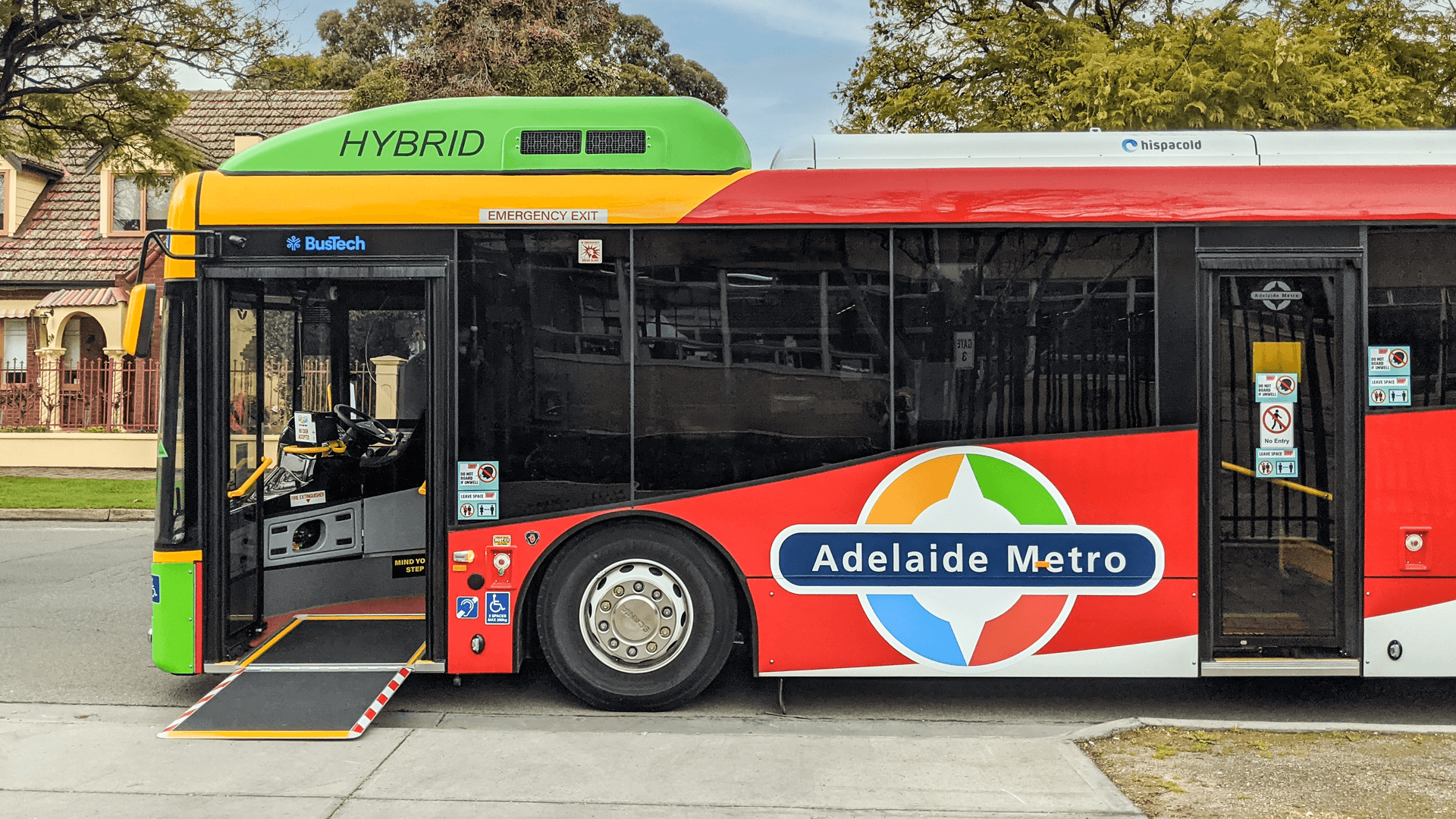 Australian bus manufacturer, BusTech (SA), has begun delivery of 20 new school buses, including 17 hybrid-electric, to meet increased demands on South Australian school bus routes.
With a hybrid chassis provided by Scania and the body manufactured by BusTech (SA) at its facility in the Northern Suburbs of Adelaide, the 20 new school buses will support the South Australian State Government's commitment to providing school students with a safe, effective and reliable bus service.
The milestone was celebrated on Friday, 20 August 2021 at Unley High School with Minister for Transport and Infrastructure, Corey Wingard, congratulating BusTech (SA) and Scania for delivering the first tranche of locally built school buses for South Australian students.
"We want to provide the next generation of school students with a cleaner and greener public transport experience, especially as Year 7 transitions into public high schools from next year," said Minister Wingard.
"As an added bonus, our adoption of the Scania Hybrid for the Adelaide Metro fleet is also creating jobs for South Australians as it has led to an increase in the number of employees at BusTech (SA) dedicated to bus body building."
The partnership with BusTech (SA) and Scania to build the additional hybrid models for use on school routes is part of a shared goal to deliver commercially sustainable transport solutions for customers across Australia.
"BusTech Group continues to work closely with State Governments and operators to transition diesel fleets to lower-emission solutions and ultimately zero-emission solutions, which will significantly benefit the local environment and public health.
These new hybrid-battery buses built in Adelaide for Adelaide are an important step in achieving cleaner and more sustainable public transport options for South Australians," says Christian Reynolds, Executive Chairman, BusTech Group.
The first three of the new hybrid buses have already rolled off the production line with the remainder, including three articulated buses, to be delivered by the end of 2021. These new buses will help to meet demand as a significant number of extra students start attending secondary schools due to the transition of Year 7 into high school in term 1, 2022.
A CLEANER, QUIETER JOURNEY
Late last year, BusTech (SA) delivered two hybrid-electric buses, built in partnership with Scania, to service the South Australian O-Bahn network. These hybrid buses were the first of their kind in South Australia and have proven to significantly reduce carbon emissions along the O-Bahn bus route.
The hybrid buses can switch to electric drive when idled at bus stops or in school zones. When these buses are in electric mode, they do not produce any tailpipe emissions and make very little noise, giving school children a much more pleasant commute to school.
"The batteries recharge whilst driving, allowing buses to automatically alternate between electric and diesel modes which means they are more fuel efficient and have lower exhaust fumes than traditional school buses." says Gregg Dinning, Chief Technical Officer, BusTech Group.
"The Scania drivetrain technology for these hybrid-electric buses has been proven to cut diesel consumption and emissions by up to 25 per cent per vehicle. The buses can operate without harmful emissions and noise, particularly in areas with a high level of pedestrian traffic, such as schools," adds Gregg.
LOCALLY BUILT WITH THE HIGHEST AUSTRALIAN CONTENT
The production of these 20 new buses at BusTech Group's Adelaide facility is a testament to the advanced technical, engineering and manufacturing expertise within South Australia.
"It's vital that we demonstrate to our school children that we can manufacture vehicles in Australia, and we don't need to be net importers of technology – making as many school buses as we can in Australia is a great way to do that," says Christian.
Being 100% Australian-owned and employing over 250 staff Australia-wide, BusTech Group is passionate about sourcing and harnessing local manufacturing and engineering capabilities to design and build its products.
"Through engaging a local supply chain and building these buses in Adelaide, rather than importing buses from overseas, we significantly decrease our carbon footprint while also generating compounded employment and economic benefits through the supply chain far greater than the manufacture of these 20 buses," says Christian.
ZERO-EMISSION SCHOOL BUSES
BusTech Group wants to see all school buses one day mirror the transition happening in public transport more broadly. Electric school buses can lead to long-term savings for schools and companies that provide school transportation services.
Electricity is less expensive than diesel fuel and when combined with the reduction in maintenance costs, the total cost of ownership of electric school buses can be reduced over their useful life.
"We see the hybrid-electric buses as part of the transition roadmap to zero-emissions transport solutions. Ultimately, we want to see all students travelling to school on zero-emission transport, and we are keen to partner with operators and governments to help them with the technology that best fits their needs," adds Christian.