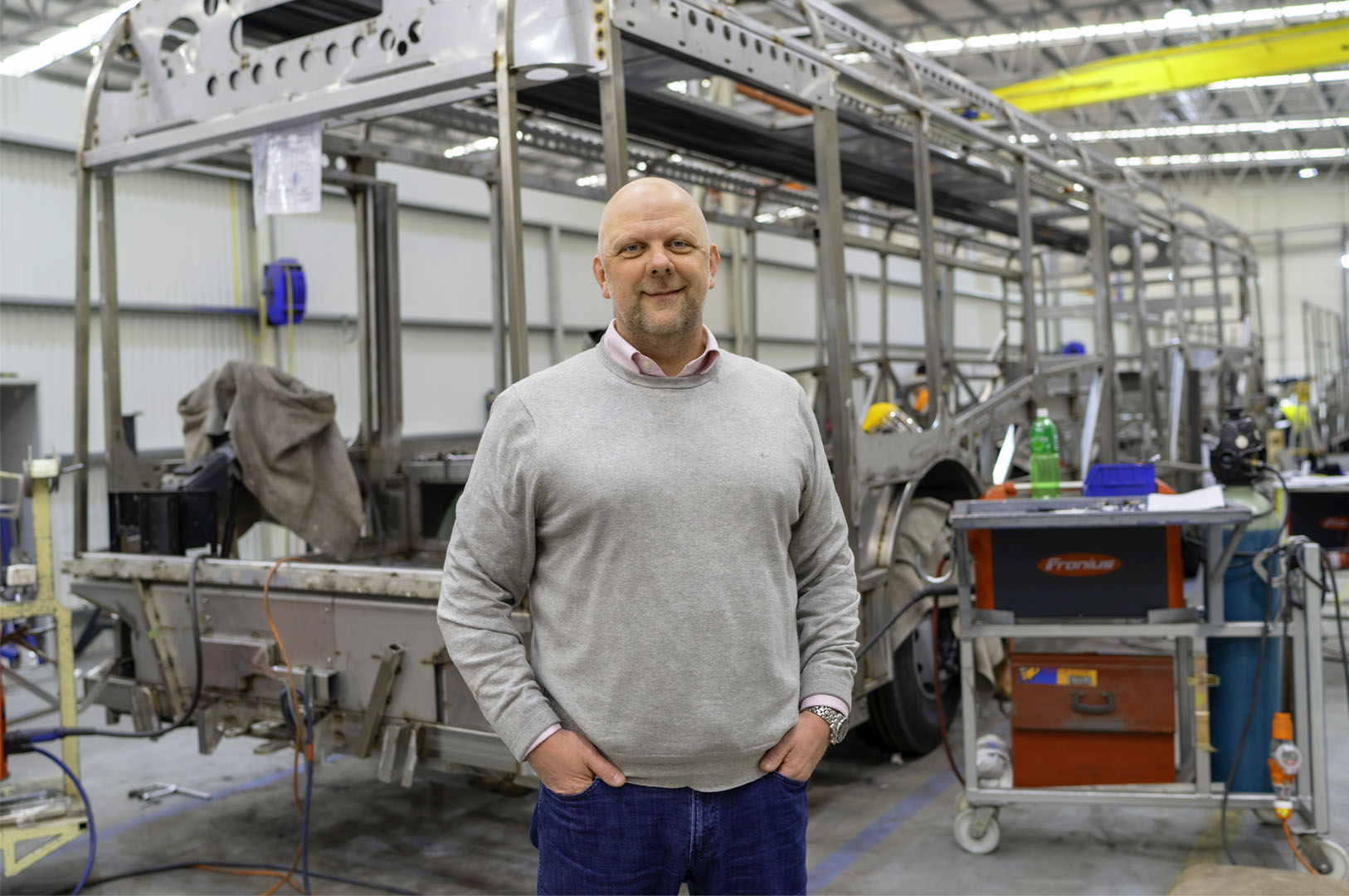 @AuManufacturing editorial series – Celebrating Australian Made – Looks at BusTech Group which saw opportunity where others hesitated, investing in human capital to create a new national automotive manufacturing group.
It is not every day that you hear about a capital company that sees opportunity in investing in Australian manufacturing.
And it is even rarer that their target is to create an integrated, national automotive manufacturing business.
But that is just what Fusion Capital has done in building a portfolio of investments in private equity, manufacturing, property holdings and property development.
A trio of Matthew Fitch, Dan Marks and Christian Reynolds saw opportunities in the Australian bus manufacturing market with the fast-approaching switch to electric and hydrogen powered vehicles.
They first moved to bring together Queensland bus builder BusTech with Adelaide's Precision Buses to form the BusTech Group, and then have steadily built human and industrial capabilities around e-mobility.
BusTech Group Executive Chairman Christian Reynolds (Pictured) told @AuManufacturing: "To me it is all about the future of energy transport – energy capture and energy creation.
"We are now switching to all-electric buses and we have a hydrogen bus in the project scope and design phase"
BusTech has since grown to become a new national group, employing 300 making buses on the Gold Coast and in Adelaide, as well as operating a joint venture bus manufacturing operation in partnership with Elphinstone at Burnie in Tasmania.
Recently the Tasmanian business delivered its 100th bus, while the company has put its first Australian built electric buses on the road in Adelaide.
It is now planning a manufacturing operation in New South Wales with plans to produce at least 60 electric buses over the next 18 months after its recent inclusion on a NSW list of approved electric bus suppliers.
The company built progess on a policy of hiring former staff of GMH in Adelaide, with others picked up in a recruitment drive in the United Kingdom aimed at Australian expats returning home during Covid-19 pandemic.
"Many Australians wanted to come home and they wanted to continue working in transportation," said Reynolds
"So we were able to supplement our team with people from the likes of McLaren, Aston Martin and Jaguar Land Rover,"
Although the company uses some imported components, its aim is to maximise local content.
BusTech produces buses on its own chassis, as well as those improted from Scania, and has plans to onshore systems used in its ZDi electric bus.
Arranged around BusTech are a number of related businesses –  the most exciting of which is the Brabham BT62 supercar, which recently debuted at the Hannover Trade Fair. Novel and exotic materials and production technologies developed for the Brabham have influenced the BusTech business as well as Fusion Components which supplies componentry to the sector.
Capping it off is the Auto Innovation Centre co-located with BusTech in Adelaide where SMEs are exposed to upcoming imported models with a view to supplying Australian aftermarket components.
BusTech is also working with partners to deliver a better experience for passengers and for operators – developments that utilise the internet of things for example to improve operator visibility of vehicle performance.
"We believe the future of mass transit is a connected ecosystem with buses at the heart, and we are committed to enabling the next generation of connected transit."
"It is a long bow to say you are going to be the best OEM because our volumes naturally are small on a world scale."
"But our aim is to be the best integrator of the best of what technology has to offer."