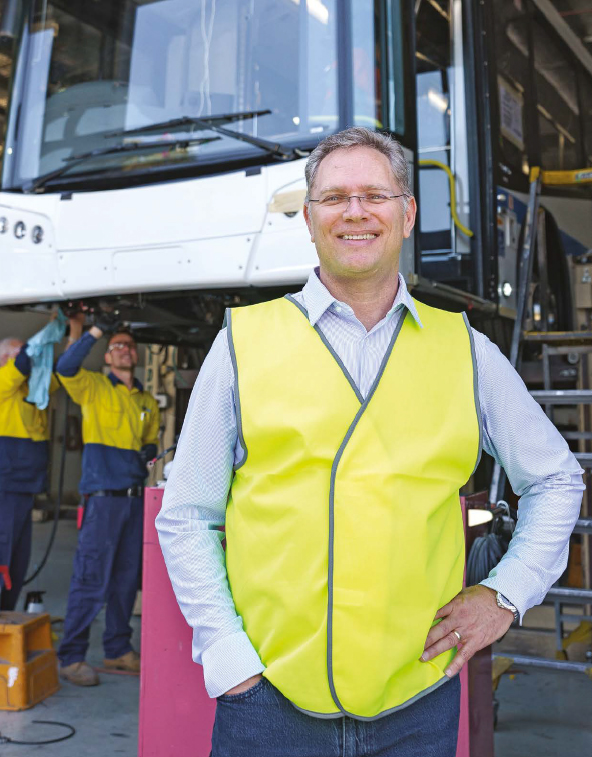 Australia's largest bus manufacturer Bustech's unique, 'One bus, three powertrain options' model is changing the future of travel. CEO Thinus Steyn talks sustainability, innovation and the power of strategic partnerships.
Words: Julie Cooper, Images: Paul A Broben
What's in a bus? To the average person, it seems there's not much to it beyond wheels that go round, doors that open and shut, rows of seats and an engine that purrs. A bus is a bus is a bus.
To the Founders of Bustech, though, a bus is that and so much more. As the Directors of the Gold Coast bus operator Surfside Buslines, they were so critically aware of what distinguished a normal bus from a multi-axle work of art on wheels that they became frustrated with the lack of innovation and limited body building options available at the time. So, in 1995, they created Bustech.
Its 2002, the groundbreaking VST model, featured a lightweight floor and greater seating capacity. Today, in response to current market needs and customers' desires, Bustech continues to drive innovation and raise the bar with modern buses built for now and the future.
"We want to create a sustainable environment and economy with the deployment of zero-emission buses," explains Bustech CEO Thinus Steyn. "And we also want to provide an integrated transport solution for the next generation of vehicles, ensuring that infrastructure and vehicles are connected."
Tackling this planet-friendly move requires the help of some friends. And in this case, those friends are the company's highly strategic partners with cutting-edge capabilities. "We've identified world-class technology partners like Proterra, Cummins and Hydrogenics," Thinus says. "By partnering with them, we can better focus on design, research and development to adapt to the changing times.
"For example, we have a bus that we are going to convert from diesel to electric and then to hydrogen. Using the existing architecture of the bus and then converting it will give customers a longer use out of the vehicle while keeping up with technology."
This unique, 'one bus, three powertrain options' model is touted as a visionary bus fleet technology solution. It allows a bus operator to use the same Bustech body and frame with the choice of either diesel, fully battery electric, or hydrogen fuel-cell powertrain options to power it – removing the need to buy entirely new buses when needs or wants change. Instead, only an upgrade of the powertrain will be required.
With a lot of orders in the pipeline and a goal of getting these buses to market by early 2021, upskilling employees has been key. "We are currently investing a great deal in our engineering resources," Thinus shares. "It's also paramount that we ensure our employees have the skill set necessary to roll out these new innovations."
Considered a pioneer in electric mobility for creating the first locally manufactured electric bus, Bustech is also proudly Australian owned and operated. It's in its DNA. So even after being acquired by Fusion Capital in 2019, and thereby becoming the largest bus manufacturer in Australia, its Australian roots remain firmly intact.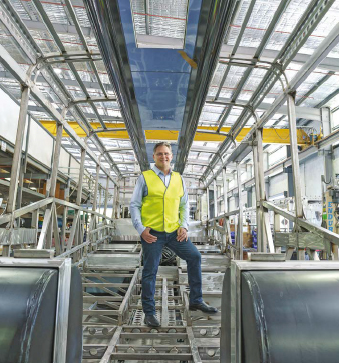 "It's important to be in Australia," Thinus stresses. "We want to create local jobs here in Australia and increase the local knowledge and expertise."
During the COVID-19 pandemic, being locally made has also been a blessing. "Since our supply chain is mainly from Australia, we haven't been as impacted by the pandemic as our competitors," he says. "By having local supply chains, we also reinvest taxpayers' money in Australia, as most of the contracts we have are with state governments, so that money is not leaving the country. Additionally, local supply chains help us serve our customers better."
To Bustech, the customer is central to everything. By not only anticipating their wants and needs, but by including them in the conversation, the company effectively futureproofs itself. "At Bustech, we do a lot of different variants of buses for lots of different customers," Thinus explains. "In our case, it's not, 'Here are your two options, choose one'. We are really open for discussion and are flexible to accommodate requests from our customers."
With this strong foundation, the company is ready for growth and planning to expand. "We're looking at building an additional facility in Queensland, two potential facilities in NSW and then another in Victoria," Thinus reveals. "Hopefully all the planning we've done and the engagement we've been busy with will allow us to bear fruit by the end of this year."
As part of Fusion Capital's Mobility arm, which also includes Brabham Automotive and the recently acquired Swagman, Bustech is a highly valuable piece of an unstoppable team. "The interdependence between these different products and brands, and how these different entities work within the group, learning from each other to ensure they have a continuous focus on innovation and technology, is key," Thinus says. "This is what we want to instil in the Group, ultimately benefiting from the synergy between these different entities."
In order to capitalise on these gains, Thinus says it's important to get the culture right first. "We start by sharing our vision, 'What we see will happen'. Because we have merged different cultures at these sites, it's important for us to align. To do this, we first communicate the business strategy to create a common understanding. Then, we need to standardise this across the teams. Finally, we measure our communication and its efficacy."
Above all, Thinus says that perhaps the most important part of creating a strong company culture is leading by example. "I'm objective driven," he tells. "Ownership and accountability are important. As a leader, it's important for me to focus on development and continuous improvement, not only for the company, but for the individual as well."
Having been with the company for roughly a year – he started in February 2020 – Thinus credits his planning and organisation background for helping him to rise above the challenge of dealing with COVID-19 after only one month in his new role.
"It was definitely a steep learning curve," he recalls. "Not only was I in a new industry, but I also had to deal with this external influence that nobody had ever experienced in the past. Luckily, I came from a financial background, so planning and analysis of the scenario came easily to me. It helped me connect the dots on what the potential impact of the pandemic might be, so I was better able to communicate plans to get us through."
With its strong reputation and high-quality, innovative buses, the Group proves that a bus can be so much more than a bus when it's Bustech-built. Its innovative prowess and customer centricity ensure its longevity.
"We get very good feedback from a quality perspective on our buses compared to imported vehicles," Thinus says. "Our adaptability and flexibility towards our customers have always been, and will continue to be, key to our success."